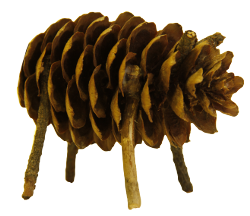 Rakas Restaurant & Bar
Local Food with Love
Rakas Restaurant & Bar, located in the main building of Arctic TreeHouse Hotel, charms with its unique ambiance and menu of meals made from local ingredients prepared with a modern twist. As you sit by the beckoning fireplace beneath the pine cone lamps, the delicious flavours will create out-of-the-ordinary and divinely tasty moments.
Rakas restaurant temporary closing for business from 22nd Dec 2020. Let's create lifelong memories together soon again!
Dear guests
It is our great honour to share unforgettable experiences with You. Together, we have experienced unforgettable taste experiences that only Lapland can offer. We wished and worked hard to be able to offer You unforgettable moments with us also this winter season, but unfortunately, this has been changed by the global COVID-19 pandemic. We are sad to announce that we will be closing the Rakas restaurant on the 22nd of December 2020.
We are already looking forward to re-opening in autumn 2021 and warmly welcome you to create lifelong memories with us once again! In the meantime, we shall continue developing our experiences so that we can offer even more magical memories to our guests in the future.
Despite the situation, we would like to wish you a Magical Holiday Season and a Joyful New Year. Lappish magic and us are awaiting for your next season at the Rakas restaurant.
– Ilkka Länkinen, Katja Ikäheimo-Länkinen and the Rakas restaurant team
[ { "featureType": "administrative", "elementType": "labels", "stylers": [ { "visibility": "off" } ] }, { "featureType": "administrative.country", "elementType": "geometry.stroke", "stylers": [ { "visibility": "off" } ] }, { "featureType": "administrative.province", "elementType": "geometry.fill", "stylers": [ { "visibility": "off" } ] }, { "featureType": "administrative.province", "elementType": "geometry.stroke", "stylers": [ { "visibility": "off" } ] }, { "featureType": "administrative.locality", "elementType": "labels", "stylers": [ { "visibility": "off" } ] }, { "featureType": "administrative.locality", "elementType": "labels.text", "stylers": [ { "visibility": "off" }, { "color": "#ff0000" } ] }, { "featureType": "administrative.locality", "elementType": "labels.text.fill", "stylers": [ { "visibility": "off" }, { "color": "#ff0000" } ] }, { "featureType": "administrative.locality", "elementType": "labels.text.stroke", "stylers": [ { "visibility": "on" }, { "color": "#6a3a29" } ] }, { "featureType": "administrative.neighborhood", "elementType": "labels", "stylers": [ { "visibility": "off" }, { "color": "#ff0000" } ] }, { "featureType": "administrative.neighborhood", "elementType": "labels.text", "stylers": [ { "visibility": "off" }, { "color": "#ff0000" } ] }, { "featureType": "administrative.neighborhood", "elementType": "labels.text.fill", "stylers": [ { "visibility": "off" }, { "color": "#ff0000" } ] }, { "featureType": "administrative.neighborhood", "elementType": "labels.text.stroke", "stylers": [ { "visibility": "on" }, { "color": "#6a3a29" } ] }, { "featureType": "administrative.land_parcel", "elementType": "labels.text.stroke", "stylers": [ { "visibility": "on" }, { "color": "#6a3a29" } ] }, { "featureType": "landscape", "elementType": "geometry", "stylers": [ { "visibility": "on" }, { "color": "#e3e3e3" } ] }, { "featureType": "landscape.man_made", "elementType": "labels.text.stroke", "stylers": [ { "visibility": "off" }, { "color": "#6a3a29" } ] }, { "featureType": "landscape.natural", "elementType": "labels", "stylers": [ { "visibility": "off" } ] }, { "featureType": "poi", "elementType": "all", "stylers": [ { "visibility": "off" } ] }, { "featureType": "road", "elementType": "all", "stylers": [ { "color": "#cccccc" } ] }, { "featureType": "road", "elementType": "labels", "stylers": [ { "visibility": "off" } ] }, { "featureType": "road", "elementType": "labels.text.stroke", "stylers": [ { "color": "#6a3a29" }, { "visibility": "on" } ] }, { "featureType": "road.highway", "elementType": "labels.text.stroke", "stylers": [ { "visibility": "on" }, { "color": "#6a3a29" } ] }, { "featureType": "road.highway.controlled_access", "elementType": "labels.text.stroke", "stylers": [ { "visibility": "on" }, { "color": "#6a3a29" } ] }, { "featureType": "road.arterial", "elementType": "labels.text.stroke", "stylers": [ { "visibility": "on" }, { "color": "#6a3a29" } ] }, { "featureType": "road.local", "elementType": "labels.text.stroke", "stylers": [ { "color": "#6a3a29" } ] }, { "featureType": "transit", "elementType": "labels.icon", "stylers": [ { "visibility": "off" } ] }, { "featureType": "transit.line", "elementType": "geometry", "stylers": [ { "visibility": "off" } ] }, { "featureType": "transit.line", "elementType": "labels.text", "stylers": [ { "visibility": "off" } ] }, { "featureType": "transit.station.airport", "elementType": "geometry", "stylers": [ { "visibility": "off" } ] }, { "featureType": "transit.station.airport", "elementType": "labels", "stylers": [ { "visibility": "off" } ] }, { "featureType": "water", "elementType": "geometry", "stylers": [ { "color": "#FFFFFF" } ] }, { "featureType": "water", "elementType": "labels", "stylers": [ { "visibility": "off" } ] } ]
56.068574
14.244457
3
https://rakasrestaurant.com/wp-content/uploads/2016/10/rakas-tag-01.png